Name: PD Dr. Daniel Lambach
Occupation: Heisenberg Fellow at the Research Centre Normative Orders at the University of Frankfurt. Privatdozent at the Faculty of Social Sciences of the University of Duisburg-Essen.
Description: Daniel Lambach habilitated in 2016 at the University of Duisburg-Essen at the Faculty for Social Sciences after doing his doctorate at the University of Cologne.  In the course of his career he worked at INEF (Institute for Development and Peace) and the Faculty for Political Science at the University of Duisburg-Essen, the GIGA Institute for African Affairs as well as the Philipps University in Marburg. His research in the field of outer space focuses on space debris and anti-satellite-weapons. More generally, his research addresses the construction of political spaces beyond the nation-state.
---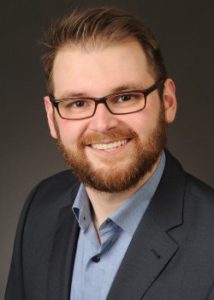 Name: Arne Sönnichsen, M.A.
Occupation:Research assistant and PhD student at the Chair of International Relations and Development Policy at the University of Duisburg-Essen.
Description: In his PhD thesis, Arne Sönnichsen analyzes the impact of technological innovation on ordering processes in outer space governance. As examples, he conducts research on the emergence of private space launch capabilities, the establishment of military space forces and discussions around space traffic management. Other interests of his are popular culture and politics.
---
Name: Anna-Lea Pietsch, B.A.,
Occupation: Master of Education student at the University of Duisburg-Essen with the subjects of English and social sciences for secondary level education.
Description: After a variety of internships related to her studies (e.g. at the German Bundestag) and working different student- and research assistant jobs, Anna-Lea Pietsch now supports the team regarding planning and implementation of the SichTRaum project.